Monthly Archives:
August 2012
See on Scoop.it – educational tools and more…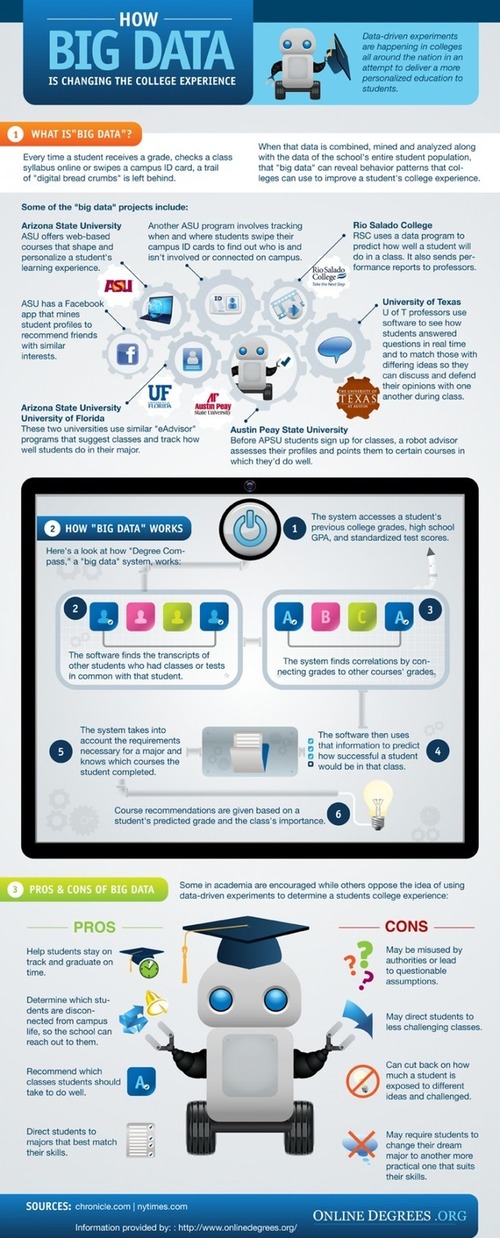 Simply put, technology exists in some for or another across education. With that technology comes a push for understanding. That understanding has taken the form of 'big data' entering the classroom. By 'big data' I mean high-tech software and analyzation of all the data being created by technology in education.
In other words, we're finally trying to all figure out the best way to use technology in education. From measuring test scores to recommending courses, there's a big push to leverage data. This should come as no surprise as the rapid growth of MOOCs, online colleges, and digital learning have gotten a lot of attention.
This infographic from Online Degrees sheds some light on projects currently underway at colleges, the pros and cons of 'big data' and a whole lot more. Have you started to use more data in your classroom? Would you take a course recommended by data or by a friend? A tough decision for sure. Looking forward to hearing your answers!
Check out:
http://edudemic.com/2012/08/20-things-to-know-about-how-big-data-is-changing-schools/
See on edudemic.com