See on Scoop.it – educational tools and more…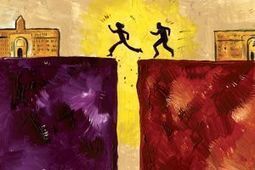 From Teaching Intensive to Research Intensive
Brian TaylorEnlarge Image
By Judi H. Wilson, Drew Kemp, and Susan Edwards
Editor's note: This is the next in a series of columns in which two assistant professors of education, Drew Kemp and Susan Edwards, write about moving toward tenure in their second tenure-track jobs. Meanwhile, the department chair who hired them at Augusta State University, Judi H. Wilson, will offer her perspective on integrating new but experienced faculty members.
Judi H. Wilson. department chair: We are in the process of reconciling two worlds. Augusta State University, a regional teaching institution, is consolidating with Georgia Health Sciences University, a research-intensive institution. Because of the consolidation, many faculty members at Augusta States have concerns about how the institution's expectations will change regarding research.
In our newly consolidated university, faculty members will be required to quickly shift their emphasis from serving primarily as teachers to emphasizing research and scholarship. Not surprisingly, there is great trepidation and anxiety regarding this shift.
Fortunately, our department has established a strong support system to serve as a scaffold for each of us during this time of change and uncertainty.
See on chronicle.com